PHilMech celebrates Women's Month
by Noel S. Mariano Jr. (March 9, 2022)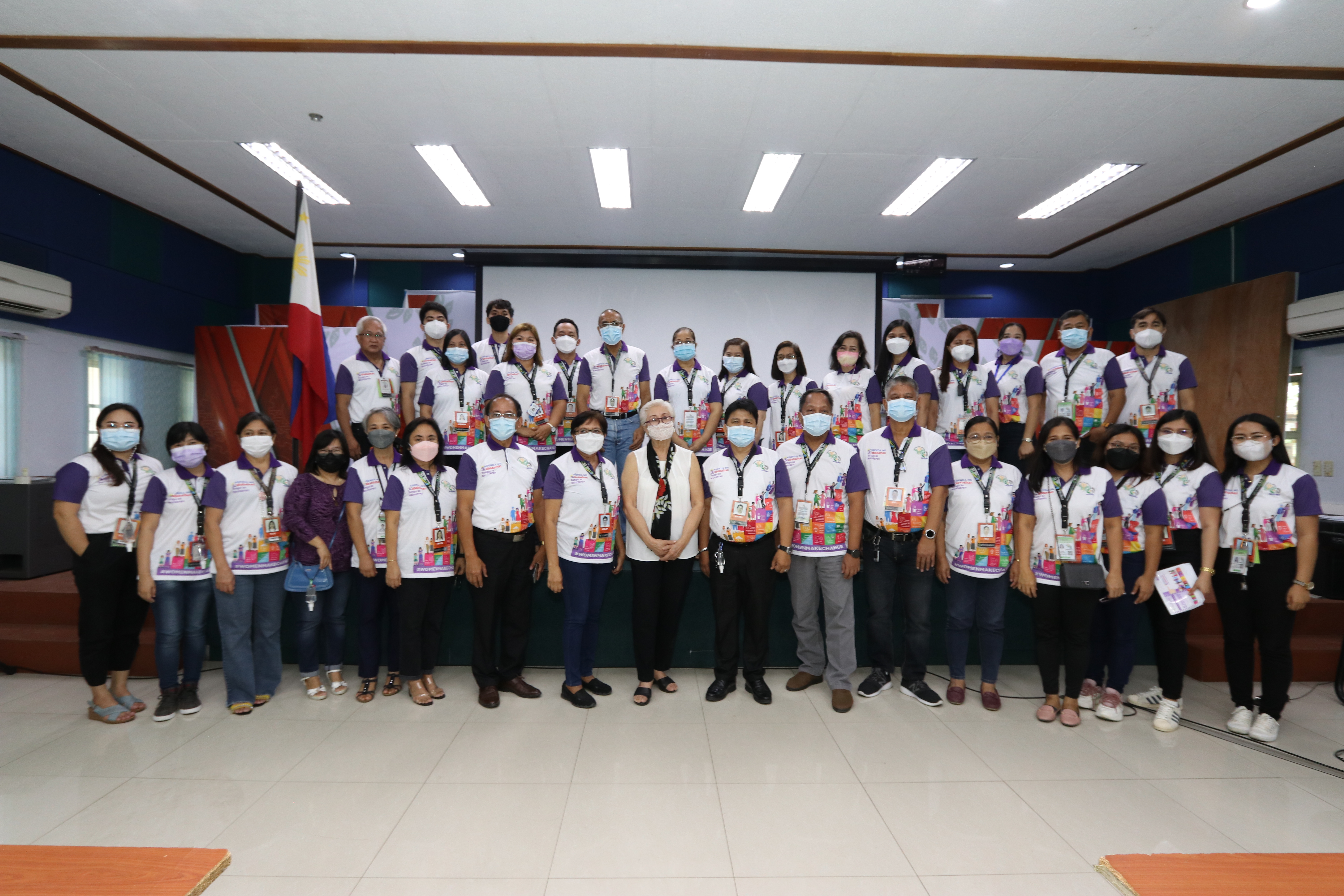 The Philippine Center for Postharvest Development and Mechanization through its Gender and Development Focal Point System (GFPS) kicked-off this year's National Women's Month Celebration at the PHilMech training hall and through Facebook livestreaming on March 8, 2022.

The celebration carries the sub-theme: "Agenda ng Kababaihan, Tungo sa Kaunlaran" that concludes the six-year recurring theme: "We Make Change Work for Women."

Director III Ronaldo Sebastian R. Reyes enunciated that the sub-theme is very apt as it eloquently reminds every individual of the valuable role of women in the attainment of development and progress.

Dir. Reyes further stressed that the society needs women as much as it depends on men.

To begin the month-long event, PHilMech featured the story of "a woman of impact," Mrs. Vilma B. Joson, founder and president of Kababaihang Masigla ng Nueva Ecija (Association of Lively Womenfolk of Nueva Ecija).

For PHilMech, her remarkable journey as a pioneer of change has transformed the lives of women, mostly wives of farmers, to become productive members of the community, engaged in the processing of agricultural commodities like fruits, vegetables, and fish with the help of PHilMech gender-friendly technologies.

Further emphasizing the importance of the event, Director I Arnel Ramir M. Apaga, GFPS executive committee chair, expressed his unwavering support to the advocacy to break gender bias and to continue raising awareness for Gender Equality and Women Empowerment (GEWE).

Dir. Apaga shared how these efforts are being implemented by the GFPS as the agency advances in the integration and mainstreaming of GAD in its programs, projects, and activities (PPAs).

"At PHilMech, we are proud to say that we continuously enhance and expand effective responses to address gender issues, free of biases, stereotypes, and any form of discrimination," he articulated.

Dir. Apaga cited there is a 12% increase in Gender Mainstreaming Evaluation Framework Assessment from the 2019 baseline score of 37.56 and 50.36 in 2020. The GMEF is a measure of how far the agency has mainstreamed GAD in its mandate.

Dr. Helen F. Martinez, GAD focal person, also enumerated the accomplishments in GAD such as the establishment of lactating/breastfeeding room, launching of the GAD corner webpage, conduct of training/workshops, and support to the activities led by the Philippine Commission on Women (PCW).

Dr. Martinez is hopeful that with the continuous support of everyone in the organization, the GMEF score will increase substantially and reach the third level rating.

Thirty-eight (38) attendees (26 females and 12 males) joined the program at PHilMech training hall while the rest of the PHilMech staff attended virtually via zoom and Facebook live.

For a month, PHilMech will purple its icon, don purple on Tuesdays, post #GADtoKnow on social media every Tuesday, and stream Musika ng Kababaihan every Friday (#MNKFridays).

Other activities include the Gender Sensitivity training for GAD ExeCom and TWG members; "Imbensyon ni Juana" featuring the agency's women leaders in innovation; and GAD logo making contest exclusive for PHilMech employees.